ABOUT US
In 2000, a small group of people began to dream about starting an inner city Christian school for the children who need it the most and whose parents could afford it the least. They discovered that the children in urban Augusta were not unlike the children in all urban school districts in America, living in poverty (1 in 3) and undereducated. The schools in the district were some of the worst in the state. Recognizing that undereducation and social counterproductivity are as closely correlated as smoking and lung cancer, they set about doing the research and raising the money to start a school with an intentional mission to the children from low-income families.
Heritage Academy creates a culture of learning with high expectations for academic, character and spiritual development. The curriculum is rigorous. All students participate in our weekly chapel program. Our students have consistently out performed both national and county averages on standardized tests.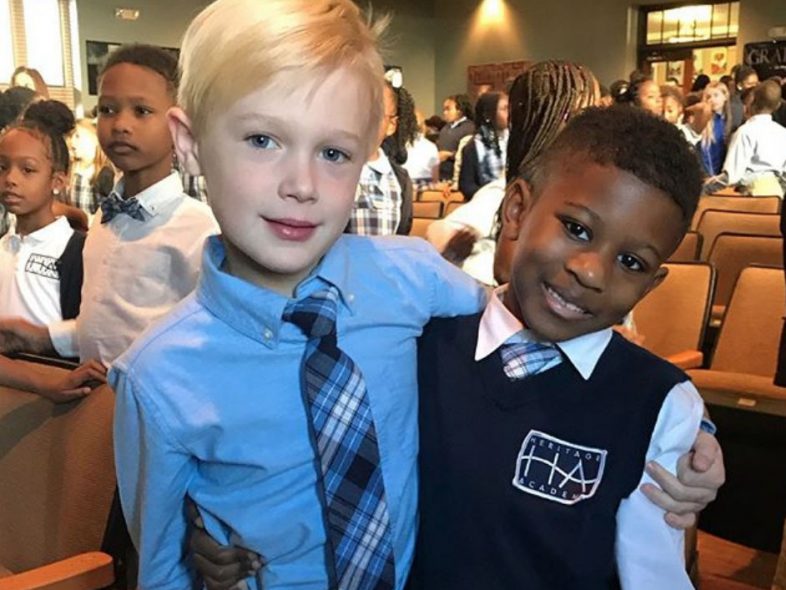 OUR MISSION
Heritage Academy is an independent school offering a quality Christ-centered education to children of diverse economic, racial and ethnic backgrounds, empowering them to become a positive influence for Christ in this community and around the world.
Heritage Academy has an intentional mission to the children of low-income families.
What People are Saying About Us
"My granddaughter has attended Heritage since kindergarten, she is now in the 6th grade. We absolutely thank God for sending us to this wonderful school. The staff is wonderful, the education that she is receiving is top notch! This is the best school in Augusta!"
"Education is our family's primary focus. I am very pleased with the vast improvement my child has made while attending Heritage. It is an honor to tell others that my child attends Heritage."
"Love H.A.! My son's teachers are enthusiastic and loving. I'm especially impressed with the math concepts that he's already mastering in kindergarten. He has made lots of friends and really enjoys school."
"Heritage Academy has provided my son with an enriched academic opportunity…I enjoy sending him to an awesome learning institution where there are ample resources, smaller classes, dedicated teacher, parental involvement and a safe environment. I also like the traditional based learning style and the religious background of H.A."
"Heritage is love in action.  It is digging deep to give the best education to our students.  Heritage is growing my own faith while watching Him grow in each child in my classroom."
"What Heritage has meant to me is love and support. The amount of love I am shown from the students on a daily basis makes my heart overflow with joy! Their hugs, smiles, and sweet words bring out the best in me. The support that I have received from my coworkers and administration gives me a true sense of being part of a family. There is no place I would rather be!"
"To me Heritage means opportunity, the school makes you feel like you can do anything you put your mind to. I've enjoyed teaching because the kids are eager to learn and the staff is willing to support. I believe 'the harder you work for something the greater you'll feel when you achieve it.'"
"Having been located in downtown Augusta for almost 70 years, we are always happy to support our neighbors. Heritage Academy's Christ-centered mission positively impacts the lives of its students, their families, and our community as a whole. There was a great need for what Heritage does and we are happy to support them."
"Heritage teaches about God, love, family and service. This focus will help the next generation of godly men and women to impact our city, nation and the world."
"We support Heritage because it provides the foundation for children to pursue anything they want to in life. From the moment they walk in, they are surrounded by the genuine love of the teachers, staff and volunteers and continually learn of God's unwavering love for them."
FIRST DAY OF SCHOOL!